GOA for Windows - Concept
GOA, the Group Opinion Analyser is a software engine for the design, implementation and analysis of any type of assessments, surveys or ratings. For this engine we offer a number of optional knowledge bases that contain the generic question catalogues and processing rules for specific applications, like 360° Feedback Management Analysis, Customers Satisfaction Survey, Innovation Climate Analysis or EFQM Self-Assessment. The combination of several such modules is called "GOA-WorkBench". The number of available knowledge bases is permanently extended by a network of research partners.
For a specific project, individual questions can be selected out of the predefined catalogues and can be rephrased according to specific needs. If you want to conduct a survey in several languages, you can also distribute the interviews in several languages.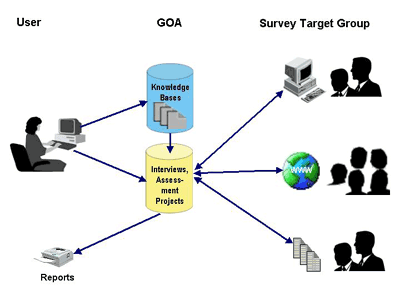 GOA allows you to define target groups for bespoke variations of the questionnaires and the way you want to run the survey: paper based, per e-mail or via web server.
Using the web survey and reporting function allows you an easy integration of GOA into your Intranet and this can be used to guarantee a high level of anonymity to the interviewees.
The returned data is read in by GOA and analysed statistically according to the specific processing rules contained within each knowledge base. More in-depth analysis can be done via an export to XLS and SSPS
GOA contains extended reporting functions, that enable you to generate different views for your individual needs and which can be saved as MS-Word or HTML files.

Additional Information